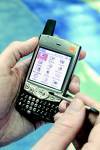 Okay, right off the bat I need to admit I am annoyed. So if there's a sharpness to the tone, you know why. It's not you. But out of my annoyance comes a great marketing tip.
I have decided I need (not want) a smart phone. I'm tired of not having my calendar and contact lists with me at all times. I'm content to pay for the upgrade, knowing it will make me more productive.
I am an ideal customer. I am ready to buy. I have money to spend.
So…with that mindset, I enter the Verizon store. Before I can buy, I need some help. You see, like the rest of the world will someday be…I am a Mac guy. (more on this later) I ask them which smart phone is most compatible with Macs. Here's what tech support guy and sales woman both say.
"Oh, you can't use a Mac with them. It's Windows technology."
I say…."are you sure? Seems to me that with all the Macs out there, someone would have figured that out."
"Yeah, well, when they were designing the phones, Mac didn't have a computer so they didn't take that into account."
What?
To which the other adds, "actually, with Mac declining, Verizon is really not going to be worrying about that platform."
What?
Here's the marketing tip. If you are ignorant, for the Love of Pete, admit it. Clearly both of these professionals are under educated about their product. And technology in general. Which is a shame. But, if you find yourself in that same boat, just admit you don't know. Consumers are much more forgiving of ignorance than they are of stupidity. Be authentic. Just say you don't know.
The other downside of sounding stupid as opposed to admitting ignorance is that you are not inclined to go find out. Admitting you don't know is often the first step in finding the answer. Aral Balkan actually proposed an "I don't know day" which is an interesting concept.
By the way, for the rest of your forward thinking technology users, here's the information from ZDNet on which smart phone works best with the Mac.