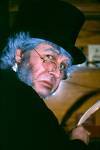 Every year it seems to get earlier and earlier. This year, some of the major marketers launched their holiday campaign before Halloween. They argue that over 40% of us begin our shopping by then, so why shouldn't they be out there. Maybe they're right.
Advertising Age (a trade pub for the advertising industry) is doing a survey this week. I thought we'd borrow their question.
Do you think consumers will be resentful of retailers and other marketers that begin Christmas advertising before the end of October or even before Thanksgiving?
Share your thoughts here and also…if you are a marketer, do you market any differently during a holiday season? Are you a President's Day special kind of business? What do you think of that as an advertising strategy?
(After we vote, I'll tell you what the Ad Age readers have said.)