Let me paint the picture for you and you can read between the lines.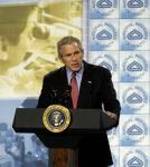 We have a hotly contended congressional race here in Iowa. The Republican Jeff Lamberti is trying to unseat the Democrat Leonard Boswell. President Bush made a special trip to Des Moines support Lamberti. Lamberti orignally had a conflict because he had made a commitment to speak to the very influential downtown rotary. A true and convenient excuse to avoid offending the President but also avoiding being seen with him. (Note: This is my supposition…I don't believe that the President's approval ratings are helping any Republicans this year).
Interesting, but not all that noteworthy. Yet. Here's the part I love.
Leonard Boswell (the opponent), who was slated the following week at the rotary, graciously offered to switch weeks. Keep in mind, these two men are running one of the most negative, nasty campaigns I have seen in a long time. And out of the blue, Boswell decided to be gracious. Hmm.
Now Lamberti is in a pickle. He had the perfect out. We all know (again…my assumption based on current day realities) he didn't want to appear with President Bush. But his opponent was brilliant. Lamberti could now embarrass the President by still declining or embarrass himself by appearing with the President.
And Boswell looks magnanimous. Brilliant.
There's a great marketing message in this story. Sometimes being gracious to your competitor is the best offense of all. Especially in a sea of dirty political advertising, Boswell's gentlemanly offer made him momentarily smell like a rose…and put his opponent is a sticky wicket. By the way…Bush and Jeff Lamberti did appear together. Bush repeatedly called his close friend Jeff by the name of Dave. No wonder politicians are inwardly groaning when they hear Bush is coming to town.
No matter how much the politicians have worn you down — please plan on voting tomorrow. It won't get better if we check out.