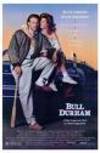 It's really my goal with this blog to create dialog about marketing, branding, customers and doing business. But one of the really unique things about blogs is that no matter the topic, they get personal. I love how the better blog writers artfully weave bits of their personality, lives and passions into their posts.
A great example of that is a post that I first saw several weeks ago.

Starbucker over at Ramblings from A Glass Half Full created quite a flurry of posts, links and trackbacks with his post inspired by one of my top ten films Bull Durham. Starbucker's post was called Crash Davis and the Belief Statement – My Turn.
I thought his post and the posts that followed were inspiring, thought-provoking and quite revealing about the authors. I decided I would take a stab at it myself, but it has taken me awhile to really mull over what beliefs I held so fervently that I should include them.
So, a little late in the game…here's what I believe in. I hope that this post might re-spark some other folks to jump in and add to the chorus.
I believe…
being a dad is the most important thing I'll ever do and that my daughter is my legacy to this world.
passion cannot be ignored.
in the healing powers of walking along the ocean.
in savoring when you hit the sweet spot…and knowing how to recreate it.
everyone should have at least one guilty pleasure and one place that makes them feel like a kid again. (Mine is Disney World!)
life's best smells are babies, a puppy's belly, freshly baked chocolate chip cookies, the softness of a special perfume as you dance to a slow song and a horse barn. (I do not necessarily recommend that these smells be mixed)
good people become great people when they give from their hearts and that most bad people are good people who are stuck.
we are never too old to play and be silly.
that nothing says I love you quicker than holding hands.
baseball is a metaphor for life and that doing what's right often means hitting a sacrifice bunt.
the word empower should be removed from the English language.
we all decide the spirit of our day.
in the resilience of the human spirit, the depth of the human heart and the potential of the human imagination.
that everything is about relationships and people hunger to connect.
I am on this earth to be a part of things bigger than myself, to give all that I have and to love without hesitation or reservation.
What do you say…will you join in?