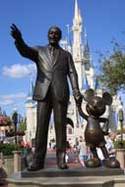 Picture this.
You have saved for a couple years. You have disappointed family by saying you're traveling over the holidays. You have revved the kids up to a frenzied pitch of excitement because they are going to meet Mickey Mouse.
This is going to be the Christmas to remember for all times. This is "Parent Hall of Fame" Christmas. Disney World.
You get everyone to Florida. You get everyone on the monorail. You walk up to the Magic Kingdom's entrance gates, tickets in hand and the kids are so excited you think they might actually go into some sort of shock. Then, you hear the cast member say "I'm so sorry, but we're closed due to over crowding."
It happened Wednesday and yesterday to thousands of people. And not just the Magic Kingdom but two of the other three parks as well (MGM Studios and Animal Kingdom) From Disney's perspective, there are codes and rules they have to comply with. But, from a customer service point of view, it can't get too much worse.
Most of the people outside your gate live a plane ride away, have sacrificed plenty to get there and may never be able to get back.
If you were the head of Disney's guest relations — what would you do to mitigate this disaster?