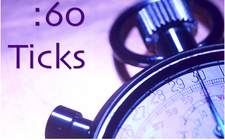 Grab it fast…it's gone in about a minute. A :60 ticks marketing tip is 150 words or less…so read it in a minute and implement it in the next!
When it comes to writing compelling radio, you need to pace yourself. Too often, copywriters shove about 50% too many words into their scripts. Here's a good rule of thumb:
60 seconds — 150 word count
30 seconds — 75 word count
15 seconds — 36 word count
That's it….go put it into action!