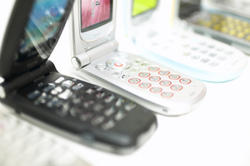 How a person brands themselves changes over time. Clothing labels, playing certain positions on sports teams, and Girl Scout badges evolve to the type of car you drive, your personalized plates and today in our all-tech world — cell phone ringtones.
Remember when you thought having personalized ringtones were a crazy fad the kids were into? Now, it's absolutely mainstream. So here's my question.
If you could only use one song for your universal ringtone (so everyone in your world and your general vicinity) would hear it and associate it with you — what song would you choose? Let me give you a running start.
My fellow Iowa blogger Doug Mitchell mentioned PhoneZoo at breakfast this morning.
Look at some of the ringtones you can have sent to your phone for free.
Are you an intense guy who's life is sort of 24/7? How about the theme song to "24" or Mission Impossible?
Are you whimsical and short? How about the Oompa Loompa song from Willy Wonka and the Chocolate Factory?
I know…feeling silly and colorful? Why not sound like Fred Flintstone or Peanut Butter Jelly Time from The Family Guy?
Go ahead….brand yourself with a song!