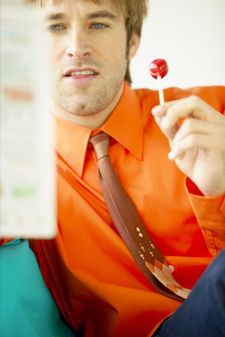 I'm not sure how you can even stay current, let alone try to stay ahead of the curve, if you're not doing a fair amount of reading. Whether it's books, blog posts or a great website packed with ideas — I think we all need to keep feeding our brains.
Here's a couple thought provoking reads that are easily accessible.
Carolyn Manning is hosting another Carnival over at Thoughts & Philosophies. Lots of good reads but the one I found most thought-provoking was The Science of Success from Craig Harper.
Over at Marketing Profs, Mack Collier has posted an excellent article called Ten Steps to Creating a Brand Ambassador. You need to be a premium member…but honestly, you need to be one of those anyway.
I've been a member for a long time and always thought it was a bargain. The content is top notch year round and now they are doing weekly case studies that are packed with ideas, insights and tough lessons. Now, an uber bargain.
Go grab yourself some brain food! The lollipop is optional but highly recommended.