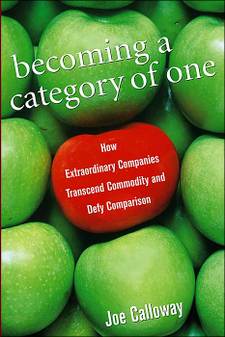 This is a book that's been out for a few years, but I think its still been "under-read" by people who need the information inside.
I believe 100% in the power of branding. It is without a doubt, the most important and misunderstood aspect of marketing in today's ecomony. Joe Calloway's book Becoming a Category of One is the branding book I wish I had written. It's that good and that on target.
Calloway is a gifted storyteller who helps the reader "get it" and understand how critical it is for them to brand their organization. Every business owner/leader should be required to read this book. It's an enjoyable, quick read…but even if it wasn't I'd make you read it.
I believe that branding is the only significant way we can differentiate ourselves from everyone else out there who sells the same things we sell. Most businesses have no idea how to articulate their brand — if they even know what it is or how to uncover it. I'll tell you this much — it is not your logo or your sales theme of the month.
Check out Joe's book and be prepared to be inspired to find and celebrate your company's true brand.