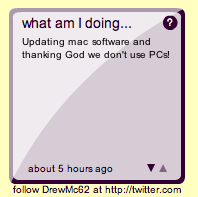 Twitter, by their own FAQ definition is "a community of friends and strangers from around the world sending updates about moments in their lives."
After watching it for a week or so, I decided to give it a try, as you can see in the right hand column of this blog. Like it or not, you will now be able to peek into the deep and dark recesses of my mind. Best tie a rope around your waist so you can pull yourself out when you've had enough!
What value does it bring? Why does it matter? Why would I add it to my world?
I can't tell you yet, because I don't know. There is something incredibly interesting to me about sharing both the mundane and the monumental moments that, in a flash, are gone.
When I did a Google blog search, I discovered that lots of people have already been talking about twitter. So I thought I'd give you a snippet of their perspectives.
David Armano (Logic + Emotion) wonders if Twitter will be polluted by product placement.
Kathy Sierra (Creating Passionate Users) who makes the argument that our brains just can't take much more.
Robert Scoble (Scobleizer) is all about maxing his Twitter contact list.
And that's just the tip of the iceberg. You can also go here, here or here.
From a personal perspective — it's almost like having a secret friend you can whisper to. Of course, you need to remember that your secret friend is a blabbermouth and anyone can listen in.
From a marketing perspective — what do you think it says? I wonder if it is more evidence of how, in this uber connected world, many people feel even less connected and less heard. Or perhaps it means our blended obsession with technology and instant gratification has taken on a whole new level.
What do you think it means?