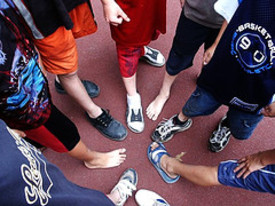 You're hiring an agency because you want results.
This is not about making your ads look prettier or your Web site cooler. (Although that may be a by product.) This is about doing more business, smarter.
So, how do you choose the right partner? Eenie Meanie Mienie Moe?
Well, if you read my earlier post you know I don't think it should be an RFP. But on the other extreme, it shouldn't be just because your cousin works there either.
Following a simple process (simple to understand, but will take discipline and time to execute) will protect you from making an expensive mistake.
The phases of the process are:
Know what you want (ask yourself questions)

Do your homework (ask the prospective agencies questions)

The meet and greet (get together and ask questions)
Now that you have a better idea of what you want, it's time to dig into the homework. This is where most potential clients just spit out a generic RFP that won't really tell them what they need to know. Let's take a step back.
Before you develop the questionnaire, let's decide who we should send it to. Create a list of candidates. Shoot for 5-10 options. But, where do you find potential agency partners?
Think about work you admire. Contact the advertiser and ask them who their agency is.
Call your local/regional business journal and ask for recommendations.
Talk to your printer or other suppliers.
Check out the web. You can search by specialty or by geography.
Talk to your peers at trade shows and association meetings.
Check out Advertising Redbooks, a resource on agencies. (if you are more national in scope)
Now that you have your list, it's time for us to decide what to ask them. That's up next.
The rest of the How to Choose An Agency Series:
Flickr photo courtesy of PeeJ0e