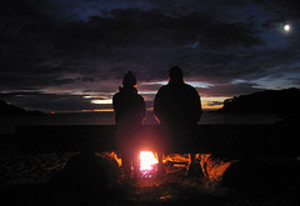 Have you ever shared a campfire with a friend?
The warmth and the crackling colors mesmerize you as the fragrance of the burning wood mixes with the crispness of the night. You're aware of the world that cocoons you but it simply serves as the backdrop to the moment.
You sit close together, your voices almost hallowed in their hush. You listen intently, knowing each has something important to be said.
You aren't in a rush, trying to force your point or plan your response before the other finishes talking. You are savoring the conversation and are content to let it pace itself.
You are reluctant to let it end. You feel connected. You know you matter.
That is what good marketing looks and feels like. No hype. No interference. Just authenticity and intimacy.