Meredith Corporation, publisher of magazines as mainstream as Ladies Home Journal, Better Homes & Garden, Parents and Family Circle also has an entire division of special interest or niche magazines aimed at very segmented audiences.
These titles include Diabetic Living, Decorating, Kitchen & Bath Ideas and over 200 additional magazines aimed at women particularly honing in on homebuilding, remodeling, decorating, gardening, crafts and cooking.
They access and influence over 75 million women with their titles. That's a lot of power and because of the narrow focus of each title — a lot of passion.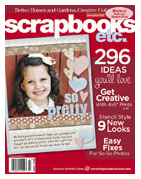 Meredith announced today that it has signed a contract with Wetpaint to create a series of Wikis for its company's most popular special interest magazines and Web sites.
The first Wiki to launch will be Scrapbooks etc.
So what do you think? How will this influence circulation? Advertising dollars?
Do you think this strategy would work as well in a more mainstream magazine like Time or People?