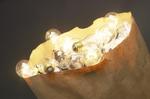 From time to time, I'm going to share a mixed bag of ideas, marketing tips, brilliant writing and sometimes — something that just made me laugh out loud. Here's today's offering:
This one had me laughing out loud: Kevin Dugan takes on an imaginary journey back in time. But we take Twitter with us!

What would Jesus Twitter
This one had me wishing I had come up with that business idea: Dan Heath talks about the power of branding. Even in personal ads!
Writing a more concrete online dating profile
This one had me nodding my head and thinking our clients need to read this: Matt Dickman shares some very valuable insights about user data collection via your web/blog.
Hope you found something in the bag to use!