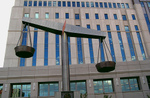 It's the biggest sales job we have to do — sell ourselves.
We're:
One of two agencies up for an account
One of two finalists for a job we really want
One of two small businesses pitching for a big new client
You know that the decision makers are in the final phases of weighing their options. Might be a few days, might be a week, might even be a month.
How do you stay top of mind? How do you let them know you really want the job/account? How do you demonstrate you're the right choice? How do you balance the scales between looking too eager versus nonchalant? Or do you do nothing and just let your interview/proposal speak for itself?
How do you make sure that you stand out from the crowd?
Flickr photo courtesy of buggs.