We've talked about it before — people don't like to do business with strangers.
And they don't like to be called "hey you!" or by the wrong name. Which means knowing who they are and what actually matters to them –should matter to us.
RainToday.com's new research report's (What's Working In Lead Generation) 2nd insight is all about the customer. And how well we know them.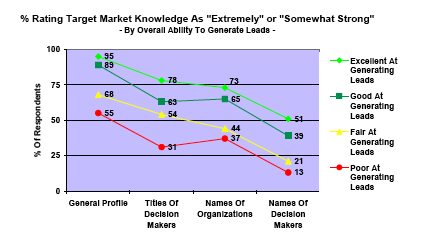 No big surprises here. The more you know about your prospect, the more successful you will be. So why do you keep sending out the "dear neighbor" or worse — "dear customer" communications?
Marketing isn't rocket science. But it does require some sweat equity and effort. You need to qualify your lists. Is that some heavy lifting? Sure. But the chart above shows you that you'll enjoy a 40% increase in lead generation if you actually know the name of the decision maker. Isn't that margin of success worth the extra effort?
Note: The full RainToday.com report shares 6 key insights which I'll be exploring over the next several days with you. In the meantime, if you'd like to download their free 21-page summary, you can grab it here.