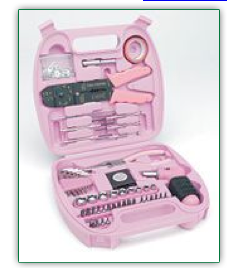 Every time I walk by these at Target, I sort of shake my head. Do women really buy pink tools? Are they insulting? Empowering?
I understand the power of marketing directly to women. But I also understand that the danger is crafting women-centric marketing messages is that the kiss of death is to talk down to the audience. (In fairness…pretty much the kiss of death no matter who you are talking to.)
But don't these tools somehow suggest she's not quite up to the man's set? (or is that my own biased filter talking?)
If you sold hand tools and your target audience was women — how would you sell them?