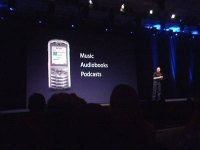 The front page of US Today's Money section offers Apple a big pat on the back for their iPhone launch in January.
The article quotes a Harvard Business School professor who says that Apple has generated over $400 million in free publicity and Peter Sealey is later quoted, calling Steve Jobs is the best marketing CEO in the business.
Citing the 80% market share that the iPod enjoys (which now generates 50% of Apple's revenues) the article goes on to list the high points of what they deem the Apple marketing manual.
Make innovative products
Keep it simple
Create truly memorable ads
Find an enemy
Offer surprises
Put on a show
Just listen to that string of words: Innovative. Simple. Memorable. Hero (my edit). Surprises. Show.
Wow. (Not like a Microsoft wow…a real wow!)
What do you think? Which item on this list do you think most businesses are best at? Worst?