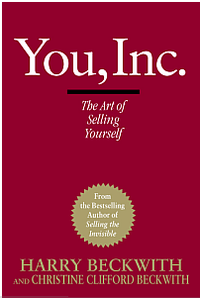 Harry Beckwith gets it. Marketing. Branding. Communications. Relationships. Not only does he get it — he helps his readers get it.
Short, concise 1-4 page chapters. Each one punctuated with a summary lesson/thought. Compelling stories. And not just marketing lessons. Plenty of people lessons too.
Harry's most recent book, You, Inc.: The Art of Selling Yourself was just released. It's as good as the rest (see links at the bottom of the post.) of his offerings but a little different. The earlier books took a more global, company-wide perspective. This book shrinks the focus down to the reader.
If you want to:
Communicate more clearly
Sell more — for the right reasons
Advance your professional stature and value
Improve your presentations skills and results
Find more satisfaction from your work life
then you need to read this book.
Beckwith is a master storyteller who never leaves the reader hanging. Together with his wife Christine (a much celebrated pro in her own right) he outlines very simple truths that can have a significant impact on your life. Professional or otherwise.
I've read some great business books already in '07. This one tops the list.
Harry's other books:
No business library should be without the complete set.