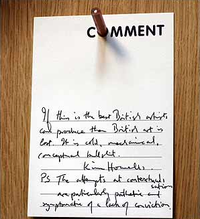 We have many opportunities to extend our brand's reach every day. Most of them are tiny little details that seem insiginficant. But they're not.
Dawud Miracle raised this issue in a recent post where he suggests that people should be mindful of how they sign off on their blog comments. He makes a very strong argument for always using the same signature to build awareness and increase your "findability." He tells the story of how his frequent commenting on blogs has encouraged other people to look him up and in doing so, discover his blog.
Let's go a little further. How a person comments — do they ask questions, do they tell stories, do they play devil's advocate? Do they add to the post by sharing or illuminating? Answer those questions and you have a snapshot of a person's brand. This, by the way, holds true on or off line. How you engage says a lot about you.
Want to watch a Master (or in this case, Mistress) in action? Start watching for Valeria Maltoni's comments throughout the blogosphere. Check out her comment on David Armano's recent post. She's amazing. Smart, engaging, collaborative — her brand is all over her comments.
We all have the same opportunity — how are you doing on maximizing yours?