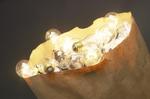 From time to time, I'm going to share a mixed bag of ideas, marketing tips, brilliant writing and sometimes — something that just made me laugh out loud. Here's today's offering:
This one had me nodding my head: Steve Woodruff has harnessed the power or PageFlakes to create a remarkable quilt of marketing, branding and business blogs. Talk about an incredible library of ideas!
This one had me connecting with my own purpose: Steve Farber who you know as one of business' most profound and real authors is asking a very important question on his blog. He's asking about giving back. I saw his post a couple days ago and haven't gotten over there to reply, but I sure am going to. You too?
Enjoy!