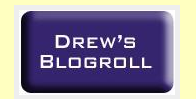 There are changes afoot at Drew's Marketing Minute…so be on the ready. The first change is already in place.
The longer I'm writing and reading blogs, the more incredible content I discover. My blog roll kept scrolling further and further down the page. At the rate I was going, my page was going to scroll down 5 feet before you got to the end of the list.
So, the blog roll is going to be moving to its own page. Enjoy the expanded list. And now that I have a whole page — watch out! More great blogs are on the way!