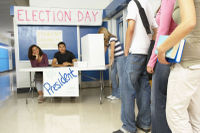 MySpace announced that it will hold a "presidential primary" on Jan. 1-2 next year, before the Iowa caucuses and New Hampshire primary.
The virtual election will be open to all members of MySpace in the United States.
In March, MySpace launched the Impact Channel, a site designed to connect politicians, non profits and civic organizations with users worldwide.
The channel currently houses pages for 12 major-party presidential candidates. In May, My Space will launch a series of monthly straw polls to gauge where candidates stand.
What do you think? Will this get teenagers and twenty-somethings interested in the election? Will their primary results impact the election?
How do you envision candidates reacting to this news?