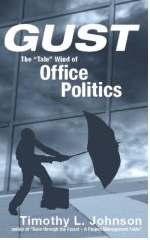 When someone utters the words "office politics" everyone shakes their head in dismay and comments that it sure would be great if there were no such thing.
But the reality is, office politics are not going anywhere. So wouldn't it be to our advantage to learn how to recognize and deal with it when it appears?
Carpe Factum's Timothy Johnson tackles the realities of office politics in his new book, Gust, The Tale Wind of Office Politics. Written in an easy-flowing business parable style, Johnson introduces us to a team of professionals that we'll all recognize.
One of the greatest insights from the book is that office politics are not inherently bad.
Every business is filled with human beings and in some ways the book is as much a personality and psychological study as it is a business book. Being able to step back and objectively see the game being played is the first step to understanding what's creating the problems at hand. The book also examines the power of influence within an organization and all the different ways someone exercises that influence.
Practical, straightforward and easy to remember solutions are woven all through the book.
Included in the book's resource section, there are surveys that both employees and managers can take to facilitate a discussion around office politics.
Why is this a book all marketers should read? In most companies marketers rely on the cooperation of many departments and people. Without the ability to spot office politics and do the necessary analysis to identify the motives behind the behavior, we don't stand a chance of being successful.