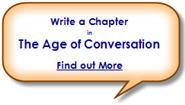 Thank you, thank you, thank you!
Gavin and I are so excited — The Age of Conversation is going to be an amazing book. We exceeded our goal of 100 authors (in less than a week!) and the topics they are writing about is going to blow you away.
We'll be posting a complete list of authors in a few days (it's going to take me that long to catalog them all!) and we thank each person for stepping up and offering their thinking/writing to this very cool project.
Again, thank you for helping us make this crazy idea a reality! And for making the world a little nicer for kids across the globe. Here's what Variety is up to in Gavin's neck of the woods.