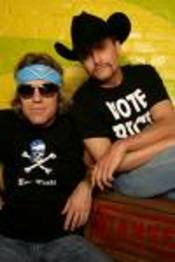 The situation: The General Manager of the San Manuel Indian Bingo and Casino has booked the country singing duo Big & Rich and sold a few thousand tickets. Without his knowledge, a radio station who had tickets to give away has upped the ante.
To accommodate the wish of an ill 5-year old girl, the radio station has made arrangements with Big & Rich to let the girl and her family see the show and hang with the entertainers backstage after the show. They, of course, have promoted this heavily on their station.
The night of the show, the casino GM learns of the plans. He says they can't go through with the plan because they are not allowed to permit anyone under 21 into the casino.
Because they didn't want to break their promise to the little girl, Big & Rich canceled the concert and spent time with the little girl on their touring bus.
The casino is left with a couple thousand people waiting to get into the concert and has to tell them its canceled. And you can imagine what the radio station did. Lots of bad buzz.
What would you have done? Okay, time for you to step into the casino GM's shoes. Would you have handled the situation like he did? If not, what would you have done differently?