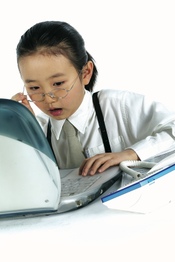 Many in the B2B world are dismissing social media as something "kids" are doing. Or are nodding at their B2C brethren and saying it's their problem.
Maybe today that's sort of true. But guess what your future customers are doing. Yup — building a new habit of using social media. Do you suppose that's going to just go away?
Social networks have changed the way that people interact with each other and with media, according to an April research report released by Fox Interactive Media. The research found that the 70% of Americans aged 15-34 who engage in social networking activity are doing so during the primetime hours. According to the research data, these social networkers aren't just dabbling; they tend to use social networks more than they use other forms of communication and entertainment. According to the report, a majority of social networkers choose interacting on sites such as MySpace as their favorite activity online or offline ahead of television viewing.
Other findings:
40% of social networkers say they use social networking sites to learn more about brands or products, and 28% say a friend has recommended a brand or product to them.
69% of users say they use social networking sites to connect with existing friends and 41% say they use the sites to connect with family members.
More than 31% of social networkers say they spend more time online in general after starting to use a social network.
Here is the question for marketers. If the 17-34 year olds are already engaged in social media, do you suppose they're going to unplug when they hit 35,40 or 50?
Imagine how differently we will talk to the next generation as they approach retirement. Are you already seeing this in your work? If your product or service targets the mature market — how does or will this affect you?
Source: Word of Mouth Marketing Association