As many of you know, tonight SOBCon begins in Chicago. I can't wait…my flight leaves in a few hours. I'm looking forward to talking face-to-face with some of the brilliant and witty minds I've already loved for awhile.
But not everyone can get there. Thanks to Carolyn Manning and some friends, you can still grow, learn and connect this weekend.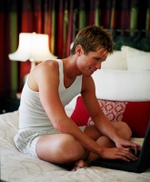 Check out the Getting It Together virtual conference that they've created with you in mind. Lots of very thought-provoking content, all from your home sweet home. In your underwear if you choose.
Read about it here. See the schedule here.
I'll make you a deal. I'll give everyone your regards at SOBCon and you do the same for me at Getting It Together.
Enjoy!