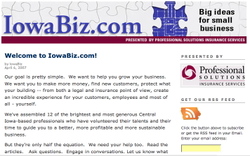 Today is a great day for Iowa Businesses!  IowaBiz.com officially launches and boy is it packed with content!
IowaBiz.com is designed with only one goal — helping small businesses grow stronger and more profitable.  We've lined up 12 incredibly smart and generous Central Iowa bloggers who are going to create new content every single day of the month.
Meet the Team
Accounting/Finance:  Joe Kristan
Human Resources/Leadership:  Shirley Poertner
Intellectual Property Law:  Brett Trout
ESOP/Company Culture:  Victor Aspengren
Life/Work Balance:  Mitch Matthews
Insurance:  Brian Honnold
Networking:  Adam Steen
Social/Viral Media: Mike Sansone
Business Law:  Rush Nigut
Call Center/Customer Service: Tom Vander Well
Project Management:  Tim Johnson
Marketing/Branding:  Drew McLellan
All of the authors are open to topic suggestions, so stop by, enjoy the high quality insights and ask a question or two.
Special thanks to Professional Solutions Insurance Services for being our corporate sponsor!