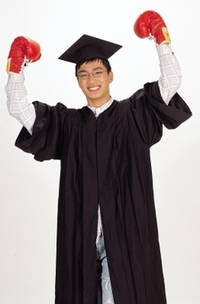 About 6 weeks ago, I asked my readers to take pity on all the college students who were about to start their first real job hunt. I suggested that the greatest graduation gift we could collectively offer was tough lessons learned, insights and practical tips. "Let's give them a fighting chance," I said.
Boy, did they bring it on!
50 pages of sage advice. All for grads. All for free. Get it while the getting's good! You have two download options. With and without photos. (In neither case is this going to win any design awards. Let's remember that I am a writer.)
3+ mg e-book with photos Download collegegradsadvice.pdf
Tiny little 300K text only e-book Download collegegradsnophoto.pdf
Please take a minute to say thanks to the many professionals who took the time to offer a word of encouragement, a war story or an idea. Without them, this would have been a very short book!
As always, I'm honored by their generosity.
I apologize in advance if there are any errors. Also, if someone posted their answer on their own blog — I tried to catch them all, but if I missed you, I'm very sorry. And without further ado — the wisdom collective:
Aaron Potts
Andy Brudtkuhl
Andy Nulman
Andy Wibbels
Ann Handley
Ann Michael
Anne Simons
Becky Carroll
Bob Glaza
C.B. Whittemore
Carolyn Manning
Chris Cree
Christine Brown
CK
Darren Barefoot
David Reich
Delaney Kirk
Derek Tutschulte
Designer Mike
Doug Karr
Doug Mitchell
Drew McLellan
Joan Schramm
Kevin Hillstrom
Lewis Green
Liz Strauss
Mario Sundar
Mark Goren
Mark True
Mary Schmidt
Nick Rice
Patrick Schaber
Paul McEnany
Phil Gerbyshak
Roberta Rosenberg
Roger von Oech
Rosa Say
Seth Godin
Sharon Sarmiento
Stephanie Weaver
Steve Miller
Steve Sisler
Terry Starbucker
Toby Bloomberg
Tony D. Clark
Valeria Maltoni