I responded to a survey called "Media Relations in Practice" generated by PR News and recently received a "preview" of the results.
Let me share a couple of the graphs (screen shots from their website) and then make a couple points and get your feedback.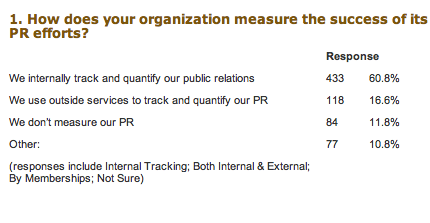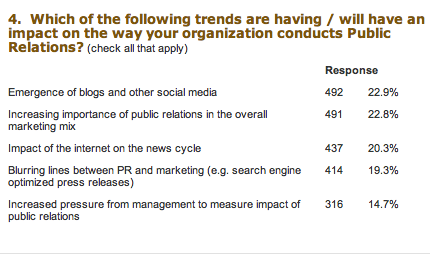 Some interesting results. Apparently they will be covering the findings in more detail in an upcoming issue of PR News. One of the charts I did not include was tied to the question "how do you track your PR efforts?" The overwhelming majority answered either Google or Yahoo.
But what interested me even more than the results was the way the survey results handled. As a respondent, I was sent a note of thanks and a web link. Oh yeah…and an "additional bonus for responding" a $50 off coupon for one of their products. Good for 90 days.
Here's what I might have done differently.
I would have sent a web link but also offered each individual chart as a jpg (or some other format) for easier sharing. After all, their own respondents told them how important blogs and other social media are.
I would have solicited comments/examples to make the results come to life and used them in the upcoming article.
I would have attached a free white paper on a related topic, based on the results received, rather than the coupon.
How about you? Any a ha moments from the results? How would you have handled distributing the results or thanking the participants?