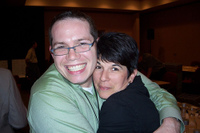 Like many of the other attendees and speakers, I feel a certain compunction to capture the essence of SOBCon before it fades.  So, in a nutshell, here's  what I learned or had confirmed:
You can't fake who you are when you put yourself out there, online, every day.  There was not one person I met who surprised me.  You were all exactly as I expected.
Bloggers are huggers.  Even business bloggers.
No matter how great the speakers are — people are hungry to learn from and interact with each other.
We truly are living in, as CK calls it, the share economy.  The generosity was boundless.
There's no substitute for sharing a laugh with friends in person.
Nothing profound or new.  However, that makes it none the less valuable.
The flickr photo is courtesy of Phil Gerbyshak and shows that lucky devil Phil getting a hug from Ann Michael.
To continue the theme of giving…here's a little link love to you all.
SOBcon2007 Chicago Attendees: Sandra Renshaw Brad Shorr Timothy Johnson Tammy Lenski Muhammad Saleem Lorelle VanFossen David Dalka – Mobile Search Marketing Todd And John Yedinak Joe Hauckes Tim Draayer Jeremy Geelan Carolyn Manning Sheila Scarborough Steve Farber Dawud Miracle Doug Mitchell Jeff O'Hara Dave Schoof Jamy Shiels Adam Steen Hannah Steen Chris Thilk Barry Zweibel Eric Bingen Ellen Moore Cord Silverstein Jean-Patrick Smith James Walton Sharan Tash Vernon Lun Tony Lee Scott Desgrosseilliers Mark Murrell Kammie Kobyleski Easton Ellsworth Mark Goodyear Ann Michael Kent Blumberg Ashley Cecil Robert Hruzek Sabu N G Lisa Gates Franke James Chris Brown Troy Worman Karen Putz Jesse Petersen Terry Mapes Andy Brudtkuhl Lucia Mancuso Peter Flaschner Derrick Sorles Mike Rohde Thomas Clifford Rajesh Srivastava Claire Celsi Jason Alba Cristiana Passinato Sean R. Alex Shalman Cristiana Passinato Brad Spirrison Ari Garber Dr. Rob Wolcott Cheryll Cruz Sharon Scherer Jonathan Phillips Jason Wade Jill Pullen Doug Bulleit Wendy Kinney Chelsea Vincent Ayush Agarwal Paul Mangalik Premchand Kallan Xochi Kaplan Michael Snell Ella Wilson
SOBcon2007 Chicago Speakers: Andy Sernovitz Phil Gerbyshak Liz Strauss David Armano Mike Sansone Drew McLellan Mike Wagner Terry Starbucker Rodney Rumford Ben Yoskovitz Chris Cree Robyn Tippins Diego Orjuela Vernon Lun Wendy Piersall