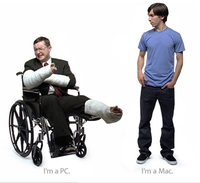 Over at the Daily Fix, Spike Jones (a great baseball name if I ever heard one) raises the question "why would you ever call out your competitors in your ads?"
He goes on to make some valid points.
But…
All of Spike's arguments are based on the assumption that the only audience for advertising and marketing tactics are prospects. They're not.
Who's the most important customer? Right, the one you already have. They can either be out there, spreading your brand's good word or they can not care enough to choose you again if the other guy is cheaper.
But when it comes to building brand loyalty and love, sometimes a little bashing goes a long way. Comparison ads do just that. They hold up two choices and they make a clear distinction between the two. And in doing that, sometimes they create or reinforce the building of ownership and pride in a brand.
Case in point — the Mac versus PC ads. Do I think that those ads sway some PC owners to come over to the other side? Sure. But what I think they really do is get us Mac people to thrust our fist in the air and shout a little. They reinforce our buying decision. They give us talking points so we can go out and spread the brand's good word. They make us feel smart and special.
Which means that when its time to buy another….
Smart.
And now, for your viewing pleasure. Imagine me giving a little cheer.