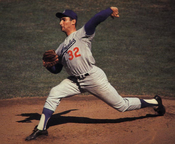 Did you read the title in one of those reverberating loudspeaker voices? If not, you need to go back and re-read it that way. I'll wait.
That is the soundtrack of my youth. I grew up dreaming of hearing the announcer's voice booming my name I strode confidently to the mound.
My hero – Sandy Koufax, the preeminent pitcher of the 1960's. He had a fastball that could singe your eyelashes before you knew it was even out of his hand. He had the stuff, on and off the field. He was an ambassador for the game and a class act.
I wanted to be just like him.
I would drift off to sleep many a night, shaking off pitch signals in my head as I imagined myself reaching my dream.
When I discovered blogging, I experienced a similar reaction to a different team – the bloggers at Marketing Profs Daily Fix. They were articulate, smart, insightful and engaging. I admired how confidant they were in their areas of expertise and how they could weave stories and facts together to illuminate their points of view.
I wanted to be just like them.
So I can't tell you how humbled and elated I am to invite you over to the Daily Fix to read my inaugural post. Now if the Fix's Ann Handley would just get on the loudspeaker…