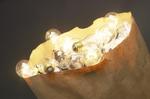 From time to time, I'm going to share a mixed bag of ideas, marketing tips, brilliant writing and sometimes — something that just made me laugh out loud. Here's today's offering:
This one had me pumping my fist in the air: Tom Vander Well hit the nail on the head when he said okay does not drive customer loyalty or word of mouth. Right on Tom! Why are so many businesses slow to understand this?
This one had me applauding my peers: Sabina shares some really creative work. Reminds us all to stretch a little.
This one had me taking notes: Get it in Writing shares the top 20 words that when/if you misuse them make you look stupid. Now I don't know about you, but I don't need any help in that arena!