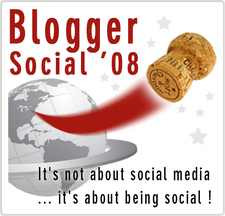 Here's how it seems to work. I'm talking with one of my smart blogging buddies and they say "we could or we should…." And I reply, "great idea…let's do it!"
And then the trouble begins!
That's how Gavin Heaton and I created the Age of Conversation. And that, on the Saturday of Memorial Day weekend is how CK and I began to create Blogger Social '08.
I've got to learn to shut up. ;}
Over lunch, we were talking about how there is no substitute for face time. And when old friends finally meet for the first time it's remarkable how quickly you ease into a natural and easy rhythm of conversation. Both of us agree – every blogger we've met has been just what we expected. You can't fake it when you hang it all out there every day.
That quickly led to "wouldn't it be great if we could all just get together for a weekend?" And uh oh…you can feel it. Suddenly I found my hand waving in the air and heard myself saying, "let's do it."
So we are.
Calling all bloggers across the world. You are hereby invited to the Blogger Social '08. (We want to give everyone time to save their pennies!)
Here's what we know:
It will be a Friday evening to Sunday event in the continental US. (Next year – Europe?)
There'll be Friday night cocktail party – casual but cool. Saturday will be an afternoon event of some kind (big BBQ or some sort of group outing) and Saturday night it's time to put on the Ritz, get glammed up and party until the wee hours of the morning.
Everyone foots the bill for their own hotel, airfare and incidentals. There will be a per person fee that covers the 3 parties/events and other group expenses. This isn't about making money; this is about connecting with friends. So this is a net/net deal for CK and me.
This is all about being social. In between the three scheduled events, there will be plenty of down time for talking, tanning (depending on where we go) and tapping into those hugs and grins that just aren't the same when you have to type them out.
Here's what we don't know:
Where. Exactly when. And who.
We need your help with that part. We've put together a short survey that we really want you to take. We want to know if you like the idea, if you want to come and where the collective wisdom wants to go. All entries are due by July 1 so we can give you the full scoop by August 1. No exceptions so go today. Why get caught in that last minute rush?
After you answer the survey – please share this with other bloggers. Talk it up, point it out and hold it up high enough that everyone can see it.
What do you say…want to get social? Come on, get that hand in the air!
P.S. If we determine that there's enough interest – we're going to be coming back and asking for committee volunteers. This is a community event, so we're going to pull together to pull it off.
P.P.S. Special thanks to Cam Beck for preparing the survey and Luc Debaisieux (Mindblob) for creating our event's official graphic. And of course…kudos and hugs to my co-hostess with the absolute mostest — CK.