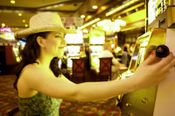 Here's something a little lighter for your weekend fare. Two chances to win big.
Darren Barefoot (of DarrenBarefoot.com fame) was involved in a project with Elastic Path where they did some edutainment videos spoofing some of the frustrations that come with ecommerce. (In the first video, Darren has a cameo role as a search engine!)
If you check out the videos and either subscribe & comment or link back to their site, you could win a $100 Amazon gift certificate.
AND

Sean Spence has launched a new site that is holding a contest for great marketing concepts. As the site says, "any NEW idea designed to convince people to want or have or do something. There is no limit on the type of product, service, entity or individual. The only major rule is that the idea must be creative, effective and original. Truly stolen ideas will be immediately disqualified."
Oh yeah…there are two prizes here. First– you get to read everyone else's great ideas and on August 31st (or after he gets 250 ideas, whichever comes later) the person with the best idea will win $1,000. There are some other cash prizes so go check it out!
Good luck!