I had dinner the other night with a business associate/friend. We were seated and the hostess turned to my friend and asked, "would you prefer a black napkin?'
Being a dumb boy, I was surprised and a little confused when my friend said that yes, she would prefer a black napkin. The hostess must have noticed my puzzled expression. She nodded at my friend and said, "she's wearing a dark dress. A white linen napkin might leave a bit of lint on her dress."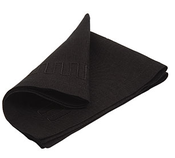 Wow. We were in for an exceptional dinner.
Any restaurant that would pay attention and make accommodations for that level of detail was going to go out of their way to deliver a remarkable experience.
And they did. If there's a Fleming's Prime Steakhouse & Wine Bar in your area — get there. And ask for a black napkin.
More important — what's your black napkin?