It would only stand to reason that a marketing & branding agency would be pretty good at branding and marketing itself.
So I thought it might be fun to explore some branding & marketing concepts using our own agency, McLellan Marketing Group, as the guinea pig.
Make a Good First Impression
Retail brands like Apple and Barnes & Noble get this.  Just by walking into their space — you are enveloped into an experience.  They begin their brand story at the front door.  But B2B companies and service providers have been much slower at recognizing the power of maximizing that first impression.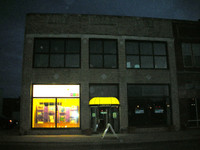 At MMG, we don't even let them get into the front door before we begin our brand story.  I've enhanced this night time shot, so you can get a sense of what our building looks like — day or night.  The upper panel shows our tagline (where strategy and passion collide) and logo in a can't be missed size.  Then, the display window below is filled with our work.  Often times, people show up late to meetings at our place, because they've stood and perused our display and lost track of time.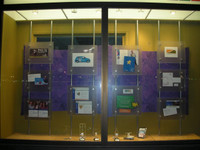 And clients love to see their work in the display case.
Using your exterior or lobby to create a brand impression can really set your company apart.  It's not uncommon for prospects to scout a few companies before they choose a new partner.
John Roberson the president of LobbyMakeover.com, a division of Advent based in Nashville offers these 7 elements to consider for your lobby makeover.
A high-impact logo—Reflect your brand with a tastefully fabricated logo that is appropriate to the space.
A clear key message—Differentiate your company with a positioning statement that lets folks know what you do and how you do it differently.
An effective color palette—Use colors that are evocative of the brand and show contrast, but are not a literal application of your brochure.
An engaging group of images—Choose images that reflect your company and the way you do business.
Success stories and awards—Artistically include customer testimonials and accomplishments.
Mission/value statement—Share where you are going and what you value because it is meaningful to customers, employees and vendors.
A user-friendly information and media center—Offer presentations, information, brochures and business cards to guests in a purposeful and attractive manner.
Be honest — what does your exterior/lobby say to your visitors?  What do you suppose that first impression costs or earns you?