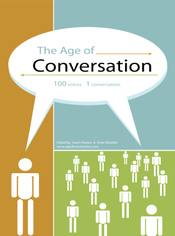 As we inch towards the official launch of the Age of Conversation tomorrow morning, I'm struck by the enormity of the project.  When Gavin and I conceived it, it was a bit of a "jump and THEN look to see if there's water in the pool" adventure.  But along the way, many people have stepped up to take on part of the load or to create a new aspect of the book.
This is my thank you note (otherwise, my mom gets very uptight) to all of them.  If I've missed someone, I apologize and would love to update my list.
The authors.  Without them, as we said in the very beginning, the book is just Gavin and myself.  While Gav's pretty entertaining and smart, I think adding the other 101 was very good thinking on our part.
Many of them have already posted about the book several times — driving more authors in the beginning and now, more sales.
Some early buzz.  Arun Rajagopal took time to visit every author's blog and give us an introduction to their work and the person behind that work.
The dedication. Thanks to CK for allowing us to dedicate the book to her momma, a woman who understood the power and responsibility of conversations long before it was the rage.
The map.  Matt Dickman gave up a lot of free time to create a google map (it's included in the book) of all the authors' locations.
The cover. David Armano brought his vast skills to bear on capturing the essence of the book.
The printer.  Roger Anderson gave Gavin and I a "behind the scenes" tutorial on printing options and was very willing to get his hands dirty in the process.  He saved us a ton of time and heartache.
The official buzz.  One of the great things about writing a book with marketing people is there are lots of people with skills you can use.  David Reich has been a preeminent PR pro (say that 5 times fast) for years.  He wrote releases, made pitch calls, scored AdAge and other media's attention and is working with all the authors to identify who in their local market to pitch.
And of course….my biggest and deepest thanks to my friend Gavin Heaton.  He is about as rock solid of a human being as I have ever met.  He's brilliant, warm, giving and never got ruffled by any of the ruckus and workload that Age of Conversation brought along with all the good stuff.  I am honored to know and partner with him.  I lucked out.
Thanks to everyone who is a part of this in any way.  I'm honored to be in this with you.