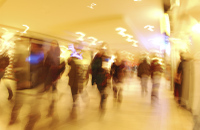 Are you a 25-54 year old male who wants a motorcycle? 
I'm pretty sure that there's never been anyone who is 25-54.  Maybe 27 or 39.  But not the whole range.
And yet…most marketing plans talk demographics.  We describe our target audience is such broad terms that at best, they are a blur.  No wonder most marketing copy (brochures, radio scripts, web sites) is vague and uninspired.  If I asked you to say three things about a motorcycle that would appeal to a 25-54 year old, how in the world would you know what to say?
But, what if I said: you are talking to a 52 year old man.  He's a white collar professional that just dropped his youngest off at college.  His 50th birthday hit him pretty hard.  He's been at the same company for 8 years and he and his wife get away for 2-3 long weekends a year and they take one family vacation a year, to the family condo time share in Boca.
This past year, he and his wife celebrated their 25th wedding anniversary and he surprised her with a diamond eternity band.  They like to entertain at home or go out for dinner with friends. 
He likes to read thrillers and spy stories.  He putters a little in the garden and plays poker twice a month with some old college buddies.  He enjoys a good cigar and scotch at the poker game and is often heard saying "life is not about the destination, it is about the journey."
Now…could you come up with three things about a motorcycle that would appeal to this man?  I bet your copy isn't vague any more.
Rather than trying to talk to shadows…and demographics, try creating the perfect customer.  Every business has one.  That doesn't mean every customer will match all the criteria, but the closer you can come, the better.
So it stands to reason, the more specifically you can talk to that target audience, the more likely you are to attract the right customers.
How do you begin to create the perfect customer?  Grab a piece of paper and a pencil/pen and let's get you started.
Ready?  Quickly write down the names of 3-5 of your company's best current customers.
Now, again without mental editing, list characteristics of this customer.  These might include things like:
If your customers are companies:
Size of company (employees, locations, etc.)
Industry
Gross annual billings
Structure (partnership, corporation, non-profit, association, etc)
Type of work
Frequency of work
Amount of annual revenue for your company from this one
Type of day to day communication (do they need hand holding, have you ever met in person, are they a golfing buddy)
Market position (leader, #2, newcomer)
Personality of key customer contact
If your customers are individuals:
Age
Education
Daily Habits
Kind of work they do
Where they shop
What causes they are passionate about
Where in the life cycle are they
How do they dress
What kind of car do they drive
What's their leisure time look like
Attitude about work, family, life etc
Now look for trends.  What do your best customers have in common?  Begin to build a profile.  Fill in the blanks as you can.  If possible, make this multi-media.  Are there colors, visuals, songs, smells etc. that you associate with this perfect customer?
Let this profile evolve over time.  Tweak it as you begin to use it.  If it helps, give your perfect customer a name.  Aim your marketing right at that person.  Write/design as though you are talking directly to them.  And watch your results rise.
What do you think?  If you've already done something like this, tell us about it.  If you haven't yet…how might this be helpful to you?