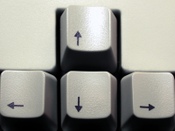 If you're looking for me today, you're going to have to look all over.  It's a little like "where in the world is Carmen San Diego" but with a twist.  Check out my posts on these blogs:
Marketing Profs Daily Fix:  No one believes in branding more than I do.  But have we gone a little too far when we hire professionals to help us brand our baby?
IowaBiz:  Everyone wants to be the iPod of their industry. What gets in the way of being a company capable of creating that kind of cool?
Small Business Branding:  Everyone's had a bad customer.  Guess what?  That's our own fault.  Branding done right can help us avoid those potential customers who in the end, just aren't for us.
Come catch me if you can!