It's human nature.  When someone loves something, we are drawn to it as well.  Maybe it's a borrowed esteem thing. But, when someone is that gaga over something, you just know there has to be something to it.
And that love cannot be faked.  It's in their eyes.  And in their words.  They don't just describe the object of their affection; their words actually caress it.  Let me give you an example.
The J. Peterman Company catalog is a copywriting lesson in and of itself.  Each item is artfully displayed but it's the description that enraptures the would-be shopper.
Listen to how they describe an item called Floral Silk Dress.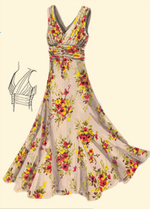 Just a few hundred intimate friends on hand for a good cause, canapés among the rosebushes. 

Castor Swilling and Mia Culp have flown in from the coast. 

All the power couples have showed up – the Bagbalms, the de Kays, the Thralls, the fun-loving Audibles.  There's the cream of the Beltway too, from Justice Hardly and Secretary Spinner to the indefatigable Snapper Balding.
But it's you, my dear, who carries the day….the first woman to sell one million dollars worth of raffle tickets.
You know how to dress for these things.  Floral Silk Dress (No. 1865).  Sleeveless, mid-calf length confection of gossamer 10mm georgette lined in silk charmeuse (satin side against your body). High Empire waist with cummerbund pleats.  Decorative self-covered buttons down the front. Eight godets for sweep and flutter.
Or…the Malaguena skirt.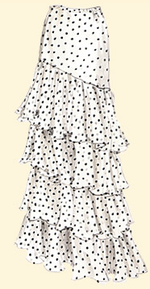 The impulse to flirt is inborn, which is a good thing. Social life with flirtation would be a bowl of very dull porridge.
Unfortunately, political correctness et al. has created ambivalence about flirting. Clumsiness. Confusion.
People attend courses with titles like "Get What You Want Through Flirting." They text each other across a crowded room. 

May I suggest a more organic approach?
Start by putting on this skirt. The gentle motion of the silk tiers draws attention, stirs imagination. Life warms up without bursting into flames. Lines of communication tend to open naturally.
True flirtation isn't a preliminary. It's a preliminary to a preliminary.  Malaguena Skirt (No. 1586), four soft, flowing angled tiers of silk georgette. Ankle-length.  Easy-fitting elastic waist. Georgette lining. Inspired by a flamenco dancer's dress at Rosa de Triana in Old San Juan, just up from the city gate.
That is pure decadence. Love shimmers off every word.  You get a sense of affection and a dash of reverence.
In a world of USA Today bullet point or colorful graph ads….this is remarkable.  You can't love something with bullet points or a bar chart.  It's just too efficient.  Love isn't efficient, it is effusive.
I liken this kind of writing to cotton candy.  Do we technically need it?  No.  But its sticky sweetness melts in our mouth and creates an experience unto itself.
Do your words caress your wares?  If you don't show the love, how can you expect your customers to?