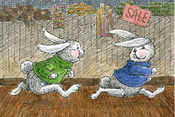 Ahh, personal branding with a whole new twist.  Leave it up to that creative rapscallion Cam Beck from ChaosScenario.  He has started a new meme and we get to play along.
Here's how it works:
You select five bloggers and give them a fitting tagline.  What's the path that led here?  Cam got Lewis Green, who got me.  So here are my tags, complete with my take on their tag.
(I'm pretty sure if you've already been tagged, you're on a safe base and don't have to be "it" again!)
CK (CK's blog):  Queen of Hearts
David Armano (Logic + Emotion):  User Friendly
Gavin Heaton (Servant of Chaos): Idea Poet
Todd And (Todd Add):  Make it Measurable
David Reich (My 2 cents):  A Bargain at Twice the Price
Feel free to join in and play along. What would you want your tagline to reflect?