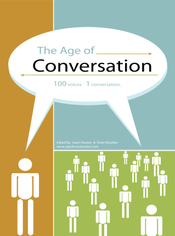 103 authors from 10 different countries across the globe  One theme.  103 different perspectives and insights.  That's the Age of Conversation.  And it's on sale right now. 
Lots of smarts.  And lots of heart.  All the proceeds will be donated to Variety, The Children's Charity.
In 48 hours, we have sold 382 copies and made $3,071.91 for the charity.  Now that's news worth spreading!  Our goal for this project is $10,000. 
In the coming weeks, I hope you're going to hear a lot more about this book and the insights contained between the covers.  I also hope you'll be following along with your own copy of The Age of Conversation.
Read about the book's launch here and here and here….UPDATED!
AdAge
Social Computing
Media Post's Marketing Daily
Media Daily News
Marketing Profs Daily Fix
Fast Company
BusinessWeek
PSFK
Des Moines Register
Stay tuned for updates here!