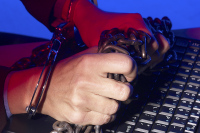 We just guided a new (pro bono) client through an absolute nightmare.  They were being held hostage by their web developer/IT provider.  I wouldn't wish what they went through on my worst enemy so here are some warning signs and tips.
Who registers/owns the domain name?  Whoever controls your domain name, controls your site.  Be sure the domain is registered in your name.  You want to own your own domain.
Is it built so you can update your own content?  With all the software solutions out there, there's no reason in the world (unless you have more money than time) to pay a web developer to update your content, once your site is complete.  That doesn't mean you have to. Many businesses choose to retain their web developer to modify content.  The question is — could you if you wanted to?
Is the site built on proprietary software?  If you count on your site and get sideways with your web developer, what happens?  Could you move your site?  How about your databases?  Could you do it even if the web developer shut you out?
Software and technology has completely changed the way websites and blogs are built. In the olden days (late 80s and early 90's) no one but the web gurus understood coding and the like.
But the world has changed and now you can control your own destiny.
The good news — most web developers are completely above board and honest.  The problem is that the people hiring web developers that glaze over as soon as they hear HTML or WYSIWYG are the ones who are least equipped to pick out the good guys from the bad.
So let's help them out.  Come on – add to my list.  What else should neophytes know or watch out for when looking for some help with a web presence?
Related posts:
Questions to ask BEFORE you hire a web developer
What's the matter with you people?  You're supposed to be marketers!