There's a new beta in town.  Hulu.com
Their goal?  Nothing big.  Just to give you access to the world's premiere content, when, where and how you want it.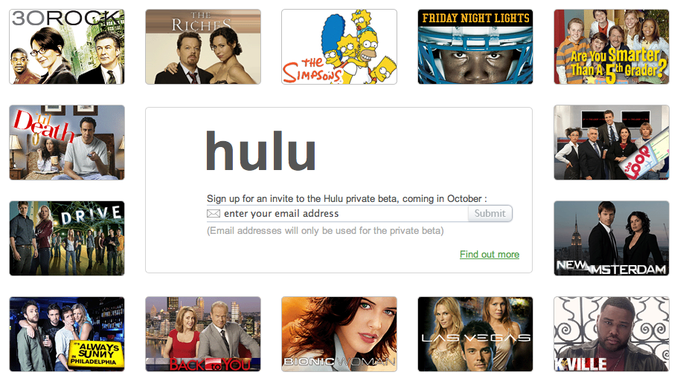 Here's a bit of the CEO's welcome letter.
Welcome to Hulu! Our passionate and growing team here has been very hard at work on a service that we're quite excited about. We'll keep you updated with news as we go along.
The first bit of news we'd like to share is that we have a name: Hulu.
Why Hulu? Objectively, Hulu is short, easy to spell, easy to pronounce, and rhymes with itself. Subjectively, Hulu strikes us as an inherently fun name, one that captures the spirit of the service we're building. Our hope is that Hulu will embody our (admittedly ambitious) never-ending mission, which is to help you find and enjoy the world's premier content when, where and how you want it.
So do you suppose Hulu will have :30 spots?
Thanks to Jon Burg for giving me a head up on this beta release.  Check out his comments as well.
You can sign up to be a part of the beta as well.