Here's the description for the Little Joseph candle holder.
Little Joseph is a hand-painted, porcelain candle holder. We can't decide if he's sinister or sweet. Part of that will certainly depend on what you decide to do with his hair. Use dripless candles if you'd like to keep him bald, otherwise, give him pure white locks, beeswax locks, or hair in several shades of the rainbow.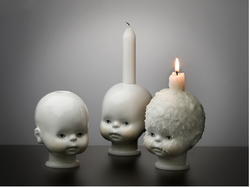 Eww.  Found this little gem at the Denver Egotist, who says they are in existence to make Denver suck less daily.  My suggestion, Denver should ban Little Josephs.