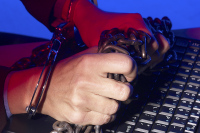 A couple weeks ago, I wrote a post asking the question "are you being held hostage by your web developer" which garnered some excellent and lesson packed comments.
They're just too good to take the risk that you feed reader users might have missed them.  So read carefully and heed their hard earned warnings.
Look for a web developer who gets both function and fashion
"Finally I would list to suggest to anyone looking for a web developer to look for a company committed to both Design and Development. Some companies do a really good job of creating a great looking or flashy site but it has limited backend functionality. A lot of people are tempted to go with a service because of the "look" they can provide. The most important aspect of "design" is usability across platforms and devices.
Look for a company who is committed to good programming practices that can accommodate future changes and security concerns. We are big believers in giving in giving our clients RSS functionality so their message can go to their customer/reader base instead of making them go to their site manually ever time."
Ask your developer for key information BEFORE you need it
"You should always get the FTP information, user name, password and hosting information in writing. Put it away somewhere safe.
I also provide clients with a CD back up of their site at least once a year or more frequently if they want one."
Don't let them scare you into staying
"She has a very small business and a small footprint on the web, so the only way she's getting all this spam is because her current website is plastered with her email address. But her company never told her this before, or advised her about how to prevent spam–despite the fact that her spam is incredibly high for what she does on the web–they happily let her get deeper and deeper into spam-hell.
And now that she wants to switch, they're trying to frighten her into staying.  Very frustrating!?
Be ready to do it yourself in a pinch
"Make sure you have someone in-house who can update, manage, and add content to the site. There's nothing worse than having to rely on external sources for something you could easily do yourself."
Don't overlook blogging software as a website content management option
"For a couple of non-profits, I've built sites using hosted (free) WordPress blogging software (some of the templates are nicely set up to create pages/tabs that resemble regular websites). Tied into those sites are Google calendars (free), and storage of files at Box.net (free). I'm not a programmer, but with these kind of tools, as long as the web presence is not too extensive as far as information and use of forms, it's do-able. And, of course, maintenance is a breeze – no need for a programmer, just train the user on how to use the free tools for administration."
Get references
"Ask around… a lot. I almost went with someone who was very nice and very helpful but in the end she realized her work and time might not be a good fit for me. She referred me to Mike Sansone and Sandra Renshaw. I consider that to be entrepreneurial divine intervention. With the right tool and their help, another star is born. Ask around…A LOT!!!"
Ask smart questions
1. How long have they been in business?
2. Who are some of their other clients?
3. How do they deal with customer service issues?
4. What kind of training/information will they provide when the site launches?
5. Can you select the hosting provider, with their help?
You don't have to be a techie to maintain your site
"It has mostly been said here but I want to add my vote for users insisting on control of their content. Simple software such as Contribute allows even the most tech-disabled of us to manage our content easily. And changing content frequently is the best way to grow visitors to our site."
Document your details
"In other words the vendor should supply a notebook of all critial passwords for everything about the network. I am a small shop (3 people) and when we build out a new network we supply all relevant info about their network."
Begin with the end in mind
"I always advise folks to make sure that whoever they select to develop their site or blog understands that it's a marketing tool and should be an element of their marketing plan, not a standalone project. I just got a call from a company (referred to me by a client) to help them understand why their web site wasn't coming up in the search engines. I took a look at the site and source code and it was very obvious that the site was not designed or developed with search engine marketing in mind (even though they told the client that SEO was part of the project)."
Thanks to all these experts for sharing their good counsel with us.  Remember…there are lots of good web developers out there.  Don't settle for anything less.
Related posts:
Questions to ask BEFORE you hire a web developer
What's the matter with you people?  You're supposed to be marketers!