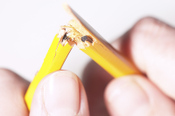 If you want to make an agency person or consultant cringe, just whisper "RFP" 
I have to wonder what level of mistrust or what horrific deed was done years ago that forced someone on the client side to create the first RFP.  They are torture for the applicants and I can't imagine much fun on the client side.
We're having a lively discussion about RFPs over at Marketing Prof's Daily Fix.  Come join us.
Related posts:
~ RFP = Really Flawed Plan
~ How to choose an agency (part 2)
~ How much is a house?